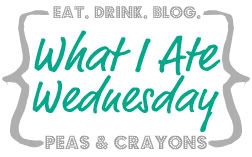 Yesterday was my birthday, and I fell off the health food wagon and ate some tastiness that I'll be working off the rest of the week. (So worth it!)
Monday night, I prepared a bowl of overnight oats. Into the bowl went:
1/3 cup Chobani plain non-fat Greek yogurt
1/3 cup rolled oats
1/3 cup almond milk
1/2 banana, chopped
sprinkle of chia seeds
I set out some frozen strawberries and peaches to defrost overnight and topped my oats with them in the morning.
When I got to work, a yummy frosty cupcake was waiting for me at my desk, alongside a funny birthday card.
The card said, "Aw hell, I got nine lives. I can spare a few. It's your birthday. Do stuff you're not supposed to." My coworkers are so sweet and thoughtful, and I'm pretty sure eating this cupcake was something I wasn't supposed to do!
My mom also sent me the sweetest card and beautiful roses to brighten up my day!
There's just something about looking over and seeing gorgeous, fresh-cut flowers on my desk that instantly puts a smile on my face.
For lunch, I tried to make up for my earlier dietary indiscretions with a light BBQ chicken salad.
I used leftover Publix rotisserie chicken in their new BBQ Ancho Cherry flavor, and tossed it with spinach, romaine, scallions, tomatoes, avocados, Gorgonzola cheese, and almonds in a lime-dijon dressing.
After work, Troy and I met up with a few of our friends at Mother's, an Irish pub and restaurant, for drinks and dinner. I ordered a grilled buffalo chicken sandwich that came topped with melted cheese and a side of fries.
This sandwich was flavor heaven in my mouth! The chicken was so juicy and well-seasoned, and served on a Hawaiian roll with fresh veggies. It's been forever since I had fries, and I'm glad my diet nosedive included some thick-cut, crispy, mouthwatering ones.
Tuesdays at Mother's are awesome. They have $2 Captain Morgan drinks and $2 pints. I sipped on Captain and ginger ale all night, and since I'm not much of a drinker, I was on cloud nine by the time we left!
Abby and Becca came out to celebrate, too. Becca ordered some phenomenal wings with "Kick Boom" or "Boom Kick" sauce made with Sriracha (I NEED that recipe). As I mentioned, by this point I was feeling great, and all I know is those were some of the best wings ever!
My coworker Brian and his girlfriend, Brittany, had dinner with us as well, but I was kind enough not to paparazzi their food, too. Although I did bring two cameras, just in case the battery died on one! (Admit it, you've done this!)
I just love gatherings where I can see all my friends in one place, especially the ones I haven't seen in a long time. Everyone had a great time, and I really couldn't have asked for a more fun birthday night.
Also, my business cards came in yesterday and I got to hand them out at dinner and impress my friends with how official my blog is now!
Overall, it was a great 24th birthday! I thought I'd be crying and complaining about being old the entire time, but everyone really came together to make my day great.
I'm wondering…
What was your best birthday ever? Are there certain foods you just have to have on your big day?
This birthday topped the list for me. I didn't think 24 was such a big deal, but the people who I got to celebrate it with really made it special. My favorite birthday food is ice cream cake! Fun fact: I got an ice cream cake for Troy on his birthday, and ate almost the entire thing by myself.